Is a Sub-Zero Refrigerator Worth the Money?
The short answer is, maybe.
When our parent firm the Carey Group designs and builds homes, we take into consideration several criteria including aesthetic design, maintenance, resale value and reliability. Will the item provide a "wow" factor for the homeowner?  With Sub-Zero's "panel ready and counter flush" design, the whole refrigerator can be made to disappear into your cabinets, or you can elect the classic stainless steel look…
Think about it.  The kitchen is the one place by which guests, or future buyers can judge the quality of the home.  Sub-Zero accomplishes that in a big way.  It is great looking and has the largest brand recognition of any residential product.
Sub-Zero refrigerators have an active vacuum seal.  They are tougher to open (which could be a problem for children or seniors), but outside air cannot infiltrate into the refrigerator.  The benefit is that food stays fresher for a longer period of time.  The refrigerator drawers are magnetized for the same reason.
Sub-Zero has less temperature deviation than other brands. The temperature can be set in 1 degree increments in both the refrigerator and freezer.  An air purification system is included that scrubs the internal air every 20 minutes to remove any ethylene, mold, viruses and bacteria.  As a result, the spoilage process is slowed and there is less chance of cross contaminating other foods.
Another feature is that Sub-Zero shelving surfaces are easy to adjust and the coating is made with new technology designed so a spill will congeal and does not spread to other parts of the refrigerator.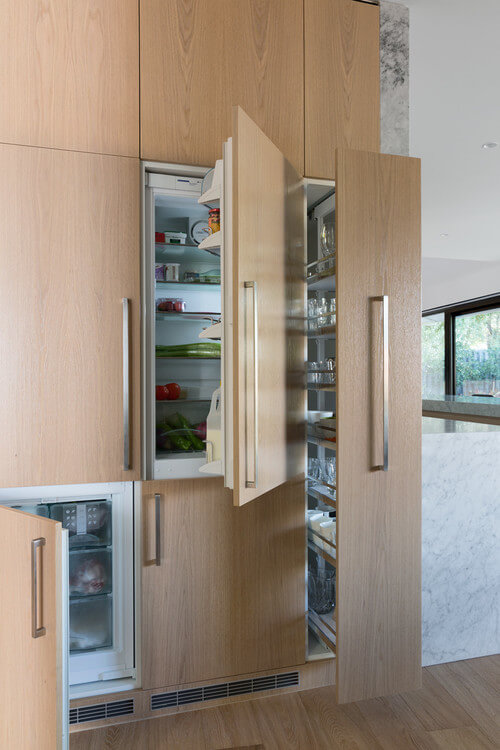 Sub–Zero's features and branding are the best in the industry. Thermador is their main competition and offers great features but Sub-Zero has a better seal, shelving and air filter. The difference in price between Sub-Zero and their close competitors is $2,000 to $4,000. (Yes, you can still buy a refrigerator for much less but without all the bells and whistles).
A couple of other notes; when we checked Consumer Reports, Bosch, Sub-Zero and Thermador were the top 3 in the higher end refrigerators, all ranked equally in owner satisfaction.  The only reoccurring negative we came across about Sub-Zero, was about their built in ice maker.  The cubes get stuck if you don't do the required regular cleaning and filter change.  I then called  The Appliance Store locally and asked them if they have more repair calls on Sub-Zero or Thermador and they said Thermador has more calls (this is not scientific in any way, it's just a stomach check with the repair firm we use).
One more thing, Augie's Water Systems (who does a lot of work locally), recommends having an R/O system tied to your icemaker for clearer ice cubes.  Refrigerator filters only remove the chlorine taste.
For the new house we are building in Hope Ranch, we chose Sub-Zero.  Sub-Zero is designed to have a 20-year life span, but mine are on their 36th year and are still going strong.  Yes, we have had regular maintenance and repairs along the way, but they keep on going.  The best thing about Sub-Zero is that their products are made to last (other brands will discontinue a style and then you can no longer get the replacement part).
These are my personal opinions in the capacity of reviewing products for our firm's use. Consumers should balance the pros and cons of any product they choose. Trudi Carey is a licensed architect, real estate broker and general contractor.  She specializes in new home trends and self-storage services.